April 9: Covid-19 Public Assistance web page
April 9, 2020
Dear Brothers and Sisters:
Your Orange County Professional Firefighters Association continues to work hard during the COVID-19 pandemic to ensure that you, the members, have your needs taken care of. The OCPFA has been a leader in the State amongst other locals and fire departments in providing relevant information, resources, and benefits to our members and ensuring that you may continue to provide for the safety of the citizens of Orange County.
As a new tool to provide for the public's safety, we are proud to introduce the following web page that provides information for families when we respond on an incident to care for one of their loved ones. The page includes contact information for the OC Health Care Agency and Centers for Disease Control and Prevention.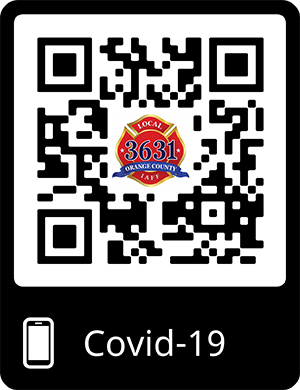 The page features a QR code that may be used to more effectively share information with the public. We encourage you to save or print this QR code to utilize on incidents. The OCPFA would like to thank Brother Bryan Bear for his suggestion and assistance in developing this tool.
As a reminder, the following Executive Board members are the designated contacts for the OCPFA's COVID-19 response:
OCFA Incident Management Team L3631 Representative, Operations
L3631 Public Information, IAFF Liaison, CPF Liaison, Member Donations
Behavioral Health and Wellness
Please continue to remain vigilant during these difficult times. Thank you for your service to one another and the citizens of Orange County.
In Solidarity,
Executive Board
Orange County Professional Firefighters Association
IAFF Local 3631
Download:

sm_QR to Public Covid-19 web pg.pdf