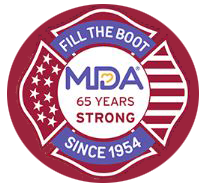 Walking, talking, eating, hugging – every day, kids and adults with muscular dystrophy, ALS and related life-threatening diseases can have these abilities taken away.
For more than 60 years, firefighters across the country have been "Filling the Boot" on street corners to fight back against these diseases – and every year we have been raising millions of dollars to help the MDA fund life-changing research and provide family services.
Covid-19 has limited the way we can get out and contribute to helping find a cure to Muscular Dystrophy and related diseases, but that doesn't mean we can't continue to raise funds and bring awareness. This year we are going to virtually "Fill the Boot"! So please use the donate button to give whatever you can and share our page on social media!
Please help your Local Orange County Professional Firefighters in contributing to a great cause!
Thank You!