March is Multiple Myeloma Awareness Month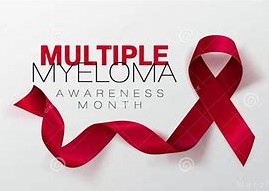 As firefighters, we have a 9% higher risk of being diagnosed with cancer than the general public.
One of the cancers firefighters have a higher risk of being diagnosed with is Multiple Myeloma. In fact, according to the University of Cincinnati Dr. Grace LeMasters determined firefighters have a +50% chance to fall ill with a Multiple Myeloma diagnosis. According to the CDC/NIOSH report: Mortality and cancer incidence in a pooled cohort of US firefighters from San Francisco, Chicago, and Philadelphia (1950− 2009) concluded firefighters have a 1.53 greater times risk than the general population to be diagnosed with Multiple Myeloma.
What is Multiple Myeloma?
Multiple myeloma is a cancer of plasma cells. In general, when plasma cells become cancerous and grow out of control, this is called multiple myeloma
Multiple Myeloma Signs and Symptoms:
Often, multiple myeloma causes no symptoms until it reaches an advanced stage.
Low blood count:

Anemia: A reduced number of red blood cells that can cause weakness, a reduced ability to exercise, shortness of breath, and dizziness.

Leukopenia:

Too few white blood cells that can lower resistance to infections such as pneumonia.

Thrombocytopenia:

When blood platelet counts are low which may cause serious bleeding even with minor scrapes, cuts, or bruises.
Bone Pain/weakness

Broken bones (fractures):

sometimes from only a minor stress or injury.

Sudden severe back pain (

myeloma weakens the bones in the spine, they can collapse and press on spinal nerves).

Numbness, most often in the legs

Muscle weakness, most often in the legs.

High levels of calcium

in the blood which can lead to:

Extreme thirst, leading to drinking a lot

Urinating (peeing) a lot

Dehydration

Kidney problems and even kidney failure

Severe constipation,

Abdominal (belly) pain

Loss of appetite

Weakness

Feeling drowsy

Confusion

Peripheral neuropathy

Pins and needles sensation

Fever and

infections

especially of the upper respiratory tract and lungs.

Kidney Issues:

N

ausea, thirst, muscle weakness, and mental confusion are related to kidney failure, hypercalcemia.

Hyper viscosity of blood (Blood thickening):

Blood clots

, nosebleeds, bleeding gums, bruising, cloudy vision

.
What Can firefighters do to protect themselves?
Limit exposure to known carcinogens

. Exposure to benzene (Diesel Exhaust), asbestos, and other known carcinogens found in products of combustion need to be reduced through using the SCBA from the start of suppression and during the overhaul process, performing preliminary exposure reduction, use of wet wipes, and showering within the hour post fire suppression. Ensure that all PPE is cleaned per NFPA 1851 guidelines.

Early detection

Ensuring you perform an annual physical with your primary care physician including all blood work.

SLIGHT LAB VARIANCES NEED TO BE LOOKED AT CLOSER.

Discuss at length with your physician if these are found. Its important to not dismiss this. One needs to be adamant of looking closer at any lab variances. Signs and symptoms of Multiple Myeloma develop at late stages of the disease.

It may cause vague symptoms that at first seem to be caused by other diseases. Sometimes, multiple myeloma is found early when a routine blood test shows an abnormally high amount of protein in the blood. You need to be vigilant with your health.
Sources: